Hello world! Issue #1 of The Online Rule
Hello, and welcome. Thanks for subscribing to this semi-occasional update on what's going on in the world of sports digital marketing.
I'll be aiming to push this out every week or two - hopefully enough so that there's interesting content, but not enough that you get sick of seeing it drop into your inbox. It won't just be The Online Rule stuff either, although hopefully you'll forgive me for mentioning one or two pieces at the bottom. I've spent time giving the website a lick of paint and I'm proud of it.
If you come across something you think would be a good fit for this newsletter, please let me know. Likewise, if you work in sport and want to draw my attention to something you're proud of that you've done drop me a DM or an email (people do this every day and I love it, so you won't be the only one).
Finally, I'm always after contributors for the site. If you want to put a few news pieces out a month, have a burning opinion on the current state of TikTok, or just want to send me a press release, I'm on scott@theonlinerule.com.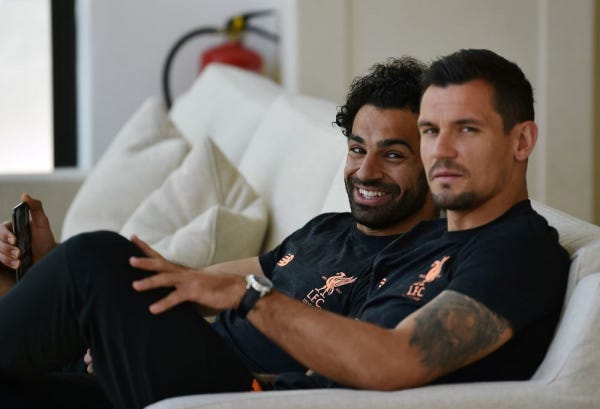 Premier League clubs getting more engagement with less content
I love stories like this, because they prove a point I've spoken to people about before: posting less content can lead to better engagement.
www.sportspromedia.com  •  Share
Aarhus open the world's first virtual football stand
Thanks to an innovative partnership with Zoom, Aarhus will have a 'digital stadium' for their home games when they resume towards the end of May. Fans from around the world will be able to pick up a virtual ticket and log in to a specific 'section' of the stand with others, just like the real thing.
Juventus' China online fan event nets 11.2m viewers
This sounds chaotic yet fun: Juve held a two-hour online game show in which supporters were put into two teams and competed against each other. China has 37 official Juventus fan clubs, and the club are active on Weibo, WeChat, and Douyin.
www.sportspromedia.com  •  Share
On the subject of SportsPro Media, it's worth taking a look at their online Insider Series. It's a series of webinars on digital strategy, with guests from the likes of the Bundesliga, Real Madrid, and Borussia Dortmund. They're usually 30-45 minutes long.
insider.sportspromedia.com  •  Share
Barça, leader on social networks during the Covid-19 period
I've included this because I like seeing teams talk about their social followings. It's nice to see that they've highlighted their digital efforts on their website, as most clubs barely even mention it other than the obligatory "find us on Facebook".
They talk about the strategies and campaigns they've implemented during lockdown, as well as how much engagement they've seen on their channels during the same period.
There are a lot of podcasts during the rounds at the moment as people make use of being furloughed or the additional time they've got on their hands.
This one has been launched by York City's Dan Simmonite, and what I enjoy the most is that it's chats with actual boots-on-the-ground staff. Hearing from people involved in the day to day marketing of clubs is sometimes more interesting than the ones who deal in high level strategies.
www.pressconferencepod.com  •  Share
Launched by Ryan Deane and Jack Glennon, Behind Sport is a new website that explores the stories of people who make sport.
They've interviewed broadcasters, commentators, strategists, and academics. And there's also a scattering of opinion pieces on topics such as 'why sports organisations should be on TikTok'.
From The Online Rule
If you've got a press release you think would be useful, send it to scott@theonlinerule.com. I'd like to feature more news.
Bundesliga clubs pick up more than 26,000 new followers
I take a look at how Bundesliga's English-language clubs accounts have grown in the past week (spoiler: quite a bit).
Should fans ever look after a club's marketing?
After the Mirror reported that Man Utd wanted a "super fan" to join their marketing department (for a £100k yearly salary), Josh Hershman stepped up to explain the pros and cons of having fans involved.
In a world ruled by measure, nothing is more powerful than magic
In which Oli Shawyer argues the case for clubs to start investing more in their brand. Contains footnotes.
There are plans for a lot more to be going on with the website over the coming weeks and months. There will be opportunities for brands to get involved through advertising or sponsorship and, hopefully, a lot more content.
Thanks for making it this far. I'll see you next time.
Scott
A carefully curated list of useful sports marketing articles. Published whenever there's something interesting to share.
In order to unsubscribe, click here.
If you were forwarded this newsletter and you like it, you can subscribe here.
Powered by Revue
UK